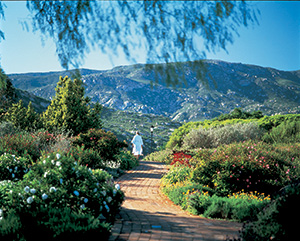 Dear Friends,
Join us for a week in nature and enjoy every offering a world-class spa (www.rancholapuerta.com) can provide. Mary and I would love to see you and share the beauty, fitness, healthy food, interesting classes, and fun people at this magical resort. If you are interested in special discounts, please feel free to contact me.
Be well,
Terry
"Embracing the Wild" with TERRY LASZLO-GOPADZE and MARY REYNOLDS THOMPSON
October 5–12, 2013
In the evening presentation, TERRY LASZLO-GOPADZE, author of The Spirit of a Women: Stories to Empower and Inspire, and MARY REYNOLDS THOMPSON, author of Embrace Your Inner Wild: 52 Reflections for an Eco-Centric World will explore our relationship with "wildness" as it lives inside and outside of us. Each author will offer their stories and reflections about how our own wild nature empowers and heals our selves and our planet. In the workshop series, Mary and Terry will offer up techniques and inspiration to help you explore and create your own wild stories. Join other participants and discover the gifts that wildness brings to you.