Hula Seriously by Kristi Hager
We're going to dance a hula to the song "Cool, Clear Water" at the Berkeley Pit."
I'm teaching as many people as I can to hula. I've been doing this dance for twelve years, alone in my painting studio overlooking the Pit in Butte, Montana, mostly to raise my spirits and keep warm in the dead of winter. Now I want masses of us, dancing on the brink of this abandoned open-pit copper mine, a mile and a half across, rim to rim, that contains thirty five billion gallons of contaminated water.
Most people intuitively know it's the right thing to do. It makes perfect sense to me. Hula is more than provocative pelvic movements packaged for sun screen-slathered tourists at hotel luaus. Hula is ancient. Hula celebrates creation. Hula opens hearts. Hula goes to any level you want to take it. Hula heals.
READ THE EXCERPT BY JYOTI
READ THE EXCERPT BY JENNIFER THOMPSON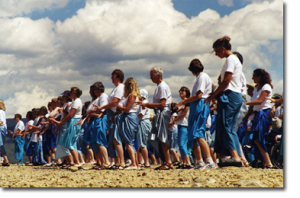 "We never know when seeds are being planted or when they will spring forth. Or when we ourselves are planting seeds in others." Kristi Hager