REMEMBERING EVE
Sheri Ritchlin
We had agreed to meet at Hicks & McCarthy's on Main Street in Pittsford. This was a trip down memory lane for me. I was back in my hometown in New York State, going to the "soda fountain" where kids hung out as teenagers. I could hear my father's voice warning us not to become "drugstore cowboys," hanging out at Hicks & McCarthy's—a place that sold only sodas and sandwiches. Were there ever such days?
The place had become a nice restaurant over the years and I was meeting Eve Strella for the first time. I have lived in California since 1966 and was back for my niece's graduation. My sister, Robin Wilson, lives with her family in the old house now and my brother, Christopher Ritchlin, lives with his family in Canandaigua. My sister knew Eve through their mutual work as life coaches.
We sat in the back, sipping sodas, and hours passed. Eve was wearing a baseball cap and looked as sharp as can be. And indeed she was. Sharp, bright, vivid, and streaming with an unquenchable light—even after months of surgery, chemotherapy, and days on end in doctor's offices and hospitals. She had far more energy than I did during that afternoon. I was still flagging from jetlag and I don't think I even had that kind of energy before I left California. She admitted that she had been unable to attend a luncheon earlier in the day because she hadn't felt up to it. I felt privileged.
People talk about having a positive attitude, but in Eve, this was something much larger; a quality that almost defies comprehension. She talked about the wonderful things in her life, and about her beloved partner, soon-to-be-husband, Ed Ribson. They had built an observatory—Stardust Observatory—in their backyard and she invited me to come by to see it, if I had time. We discussed cosmology and quasars and the world swelled outward around us, far far beyond Hicks & McCarthy's. She showed me the jewelry she was making, and promised to make a pair of earrings for me. She had a shop nearby where she sold her jewelry, ceramics and wall hangings. She wrote articles and did her work as a life coach. And then there was the book she was putting together of stories from cancer survivors. It became clear to me, little by little, that Eve had stage 4, terminal cancer and was not in denial of it at all. "I just don't intend to be stamped with an expiration date," she said. She lived each day as a special and exceptional experience.
The purpose of our meeting, beyond getting to know one another, was to plan two book-signings in Rochester for Terry Laszlo-Gopadze's book The Spirit of a Woman. Since both of us had stories in it, we decided to do this together and she had made the arrangements. I had worked as an editor on the book and remembered very well when Terry sent me Eve's story to consider for inclusion in it. I had been deeply moved and impressed by the story so I answered with a resounding," Yes". I really wanted to meet the woman who had written that story when I discovered that she lived in my hometown back east.
Eve's story in The Spirit of a Woman was not about her cancer. That came later. It was about the death of her husband, of twenty-two years, which came upon her unexpectedly when he entered the hospital for heart surgery and died that night. It was a searing experience, and Eve wrote the story in a way that any woman who has been through it can identify with. It is a story that "empowers and inspires"—the subtitle of Terry's book.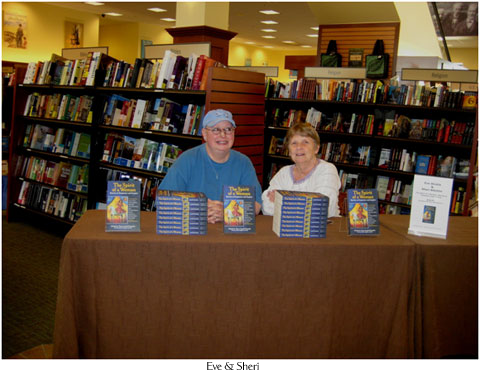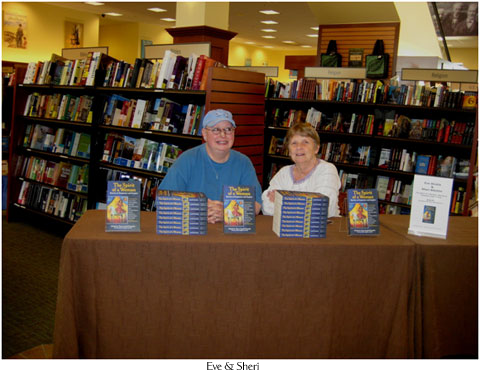 We were in touch after the book-signings. Eve emailed me in August—
"Sorry for the delay on this … time flies.  I thought you might be interested.  Go to www.rochesterwomanmag.com, then go to page 43…let me know what you think."

Hugs,
EVE
The interview with Eve in Rochester Woman Magazine was indeed something else to be proud of.  I just tried to follow the link again and found that the article is no longer up, so I wrote to the publisher, Kelly Breuer, and she sent this reply.
"I did not know that she passed away, and that tremendously saddens me. She was an AMAZING, A+++++ lady. She will be truly missed. I will be more than happy to send you the article as a pdf/jpeg file for you to use as you wish. We would be honored…"
You see how she touched people. I will include that article below when it arrives.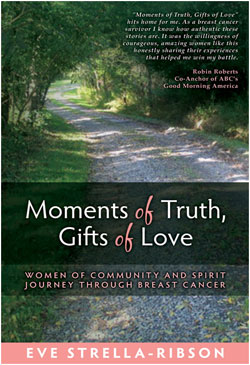 In March of this year, I heard from Eve again, asking me to take a look at the press release for her cancer survivors book. My jaw dropped. The cover was beautiful and carried a comment by Robin Roberts, co-anchor of "Good Morning America."  The title was Moments of Truth, Gifts of Love: Women of Community and Spirit Journey Through Breast Cancer.
Now keep in mind that all during this period, this was a person with Stage 4, terminal, cancer. By the end of May this year, she was back at Barnes & Noble in Rochester for a book-signing for her new book.
Eve's book is a collection of stories of cancer survivors. Eve is not a cancer survivor. She passed away on July 19, 2011. The stories in Terry's book all come to insightful conclusions. Eve's final story does not. Yet it is all the more inspiring and empowering. She bears witness for us that life can be lived powerfully, lovingly and gracefully even on the downswing—whatever form that takes. From the beginning, Terry was looking for stories for her book from women who had converted hardship into blessing, in all of the myriad ways people are challenged to do this. You could say that Eve's final story has no satisfying ending, but it does. In her passing, Eve has given us the ultimate insight:
The spirit has no expiration date.
Long live that fine spirit.
---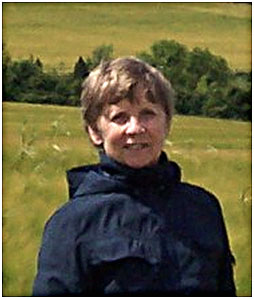 SHERI – BIO
---
The following poem was very important to Eve because David Whyte had written it for a friend who was dying of cancer. It speaks of death as the  beginning of a journey instead of a departure. The poem resonates with Eve's indomitable spirit and courage and it gives us all hope for our own journeys.
With love and appreciation for a captivating and heartfelt woman,
Terry
The Journey
David Whyte "The House of Belonging"
www.davidwhyte.com
Above the mountains
the geese turn into
the light again
painting their
black silhouettes
on an open sky.
Sometimes everything
has to be
inscribed across
the heavens
so you can find
the one line
already written
inside you.
Sometimes it takes
a great sky
to find that
small, bright
and indescribable
wedge of freedom
in your own heart.
Sometimes with
the bones of the black
sticks left when the fire
has gone out
someone has written
something new
in the ashes
of your life.
You are not leaving
you are arriving.