My friend Badieh told me this story and I asked her to share it with you. -Terry
A Message from Heaven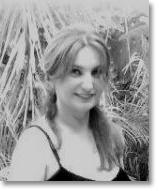 This year I had the best Father's Day I've ever had after the love of my life, my first love, my Papa left us ten years ago. In remembrance of his life, every year on Father's Day my Mom, my sister Talieh and I go to La Jolla Cove where his ashes were scattered. This helps us with the many other days of the year when we miss him terribly.
Unfortunately, my Mom became so sick this year that she was not able to go with us. She was very upset that she could not make it and she said a prayer to my Father telling him how sorry she was. I was worried about her and I did not want to leave her at home alone, so I asked Talieh if she could go first to say "hi" to Dad and when she returned I would go.
When Taliah returned, I went with three red roses in honor of my Father's loving, caring and kind personality. He was my angel.
When I got to the cove, I made my way down the cliff towards the ocean, but it was too stormy to try to get near the water. I got as close as I could and then I threw the roses in the ocean. As I watched the waves, one rose disappeared. I could not find the third rose, the other two were playing with waves and all of a sudden one of the two roses was thrown on to a huge rock. The waves were not so large any more and I had no hope that the rose would be washed into the ocean to bless and join my Father.
As I was wondering how I could get the rose back to the ocean, I was staring at it and I felt the rose becoming "alive" and that I was not in this world. I began communicating with my Dad through the rose. He wanted me to stay longer, he wanted to look at me because he missed me and I wanted to stay too. After a long conversation I told him, "Okay Dad it is time to go, I promise I will come to visit you more often."
As I turned to walk away for last time, I quickly turned back again to look at the rose as a big wave swept it into the ocean. I felt my Dad saying, "Goodbye, I have to go too."
I broke down crying as I made my way up the cliff. At the same time, I saw an old man who was tall and thin climbing the rock towards me with the red rose in his hand! He approached me and he said, "I believe this is for you."  And I said, "I thought I lost this in the ocean. And he said with a smile "You will never lose him. Happy Fathers Day!" and he walked away. I burst out crying.
When I went home Mom was in bed, Talieh was lying down next to her watching TV and I walked in with the wet rose. I gave the rose to my Mom saying this is for you from Dad. Both my Mom and Taliah stared at me in awe as I told them the whole story.
Then Talieh said, "Oh my God, I got my answer!" On her way to La Jolla Cove, Taliah was wondering if Dad could see her coming to say, "hi" to him and she was questioning whether or not the spiritual life really exists. The strange thing is she had taken two red roses and she had lost one of them in the ocean but she walked away without finding it. In the back of her mind she thought, Badieh will find it.
My Mom was overjoyed to receive the rose from my Dad, Taliah felt her beliefs were renewed and so we all were touched in a very loving and simple way.
Later that day, I was talking to my eleven-year-old nephew Cameron as we were driving to Laguna Beach to see his Dad for Father's Day. I told him what had happened to me that morning. He was busy eating a chocolate croissant as he listened to my story. When I finished he became very quiet and after a very long silence he turned to me and said, "That was a message from heaven."
–  Badieh Yagoubhi