by Terry Laszlo-Gopadze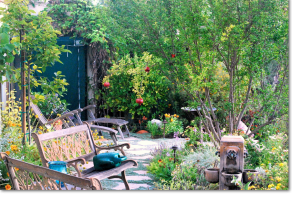 "If you are too busy to purr, you are too busy."
-Meow Tzu, Meow Te Ching
One day not so long ago, Jenny Parker and I enjoyed lunch together, and I was struck once again, as I have been many times before, by how pretty she is. As we spent a few hours together, I also realized that she is so much more than just a pretty woman. She lights up the space she occupies. Jenny glows.
Jenny is an anesthesiologist. When she was young, making the kind of choices that young people must make, she considered a career in design. Eventually, however, she chose otherwise. She took a very different path and became a physician, and for a number of years she conscientiously did everything that her professional life required of her. But it was not without personal cost. Year after year there were heavy responsibilities, long hours, and late nights, and all of it took a toll. Finally, she knew it was time to make space for a life she could truly love. She was years away from retirement age, but she would retire. Friends and family were surprised, perhaps worried, and they warned, "You are too young to retire." "You will regret this."  "You are going to be bored." But she knew in her heart that gardens were her destiny, and she hungered for the joy that their beauty would give her. She turned away from all of the warnings and followed her heart. These days she spends as much time as she wishes in gardens, those of her own and those of others. She is not bored. Jenny glows.
Although she has retired from her full time work as an anesthesiologist, Jenny has not retired from medicine. As she talked about the "doctoring" she does now, her smile was continuous and contagious. She told me about the indigenous Mayan people in Guatemala who need basic medical services and about Mexican people who haven't money enough for the surgeries that will restore them to health. She told me about traveling to Guatemala and to Mexico to help those people, as well as others who live in remote areas where there is no health care at all. Her voice rang with passion as she talked about the joy of using her medical skills in these ways.  She is not bored. Jenny glows.
And as we shared a meal, what a joy it was for me to be witness to my friend's happiness! I was reminded of the wise saying "You will feel fulfilled when you do the impossible for someone else."  (I found that bit of wisdom on a Yogi tea bag …really!)
Jenny does the impossible for strangers.  She is not bored. Jenny glows.
Terry Laszlo-Gopadze