Cool Water Hula 10th Anniversary
Cool Water Hula 10th Anniversary is making waves in Butte, Montana on July 10, 2010.   We will dance and sing to the song "Cool Water" on the edge of the Berkeley Pit that contains over 40 billion gallons of toxic water.  One hundred and fifty-four of us danced there ten years ago.  This time we are dedicating the event to protecting clean water because we want clean water to be a basic human right everywhere.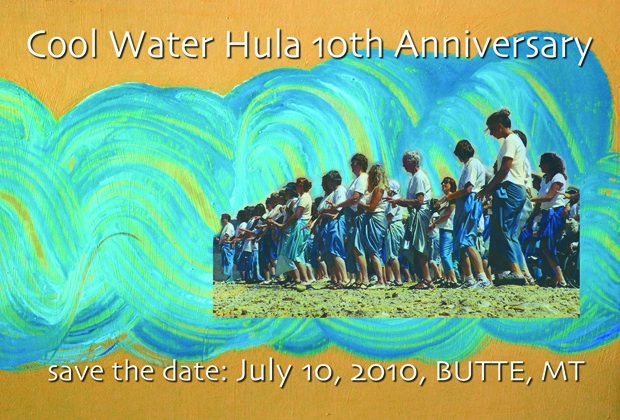 The environmental movement is doing a fantastic job of getting the facts and figures and educating us about terrifying inconvenient truths.  We need that.  It teaches me to turn the water off while brushing teeth, keep showers short, and boycott bottled water, all good and important actions. But private actions alone can leave us isolated and easily discouraged.  We need to engage our hearts communally.  Creative, public actions like the Cool Water Hula embody a new story, give the environmental movement a heartbeat and build momentum for a huge cultural shift.  Be a part of the big picture of transforming a greed culture into a green culture. Come to Butte, Montana on July 10th, 2010. Make waves for clean water. 
Kristi Hager, director and producer, Cool Water Hula 10th Anniversary
Information at coolwaterhula.blogspot.com
Kristi Hager is also a contributing author in The Spirit of a Woman: Stories to Empower and Inspire. We invite you to read and excerpt from her story, Hula Seriously