This is the season for Spiritwalkers, my little retreat center in Mount Shasta.
We have had a very late winter, it snowed last Wednesday!
I am trying to de-winterize the garden. I have a Foundation for Shamanic Studies Spirits of Nature workshop here this next weekend, and a large day group here on June 19th.
Of course the garden is unfolding in it's own miraculous way, and as we rake, plants beginning to bud are revealed. Others, like the wisteria over the cottage porch, have visibly suffered from the frost. Some trees still have branches down from the end of January storm.
Mount Shasta was declared a disaster area. Trees went down on roofs, and roads and facilities and services. There was no power for heat in town, and many of us who live on the slopes of the mountain were cozy with our wood stoves but were snowed in during the blizzard. Our community really came together on many levels to assist those who were suffering.
I was very blessed and protected and had little damage, but there is still a lot to do to clean up.
It is challenging to find balance between doing and being when you have expectations. That is why things flow so much easier when I can just be present with what is in the moment.
The garden, now, is the ideal place for finding this balance. It just is.
My garden is pretty rustic. There is a framework here, but it is not a very controlled environment like most gardens. I must admit, I do protect the vegetable garden.
Rather than discourage the deer I welcome them to have all they want of the water, grass and thimbleberry (a native plant they love).
We have an agreement. In the Fall, they can eat what they want in the garden. It works most of the time. I actually saw the does chasing away a young buck who tried to eat some flowers.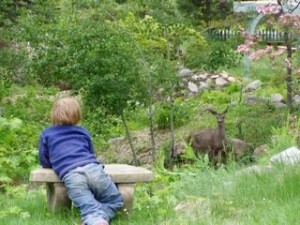 (Max is telling the deer it's OK to eat the thimbleberry.)
There is Spirit in the garden. The same Spirit that flows through us. We are one in Being.
I have heard people say they enjoy working in their garden. I enjoy being with my garden.
Somehow, the doing gets done being present with what is. Life keeps flowing and I am connected to that. The garden is a wonderful teacher!
Della Clark is a contributing author to The Spirit of a Woman and her website is www.spiritwalkersretreat.com