by Sherri Dunnington
"From the unreal lead me to the real.
From darkness lead me to the light.
From death lead me to immortality."
-The Upanishads
I have often thought of courage and spirit as synchronized – when we are called on to be courageous, our spirit engages to guide us. At no time was this more evident in my own life than during a recent lesson on life's fragility.
On New Year's Eve I received "the call": the one where the phone receiver becomes heavy from the weight of the news on the other end and words escape you. The call where your heart does a flip-flop and your life comes to a halt and a panic simultaneously. Then weightlessness and hopelessness rush in.
The automatic, cold steel doors swooshed open. A gust of sterile, stuffy air that is hot and cold at the same time brushed by. Footsteps echoed off the bare halls and bare floors. It seemed senseless that Teresa Loretta Hendren – mother, wife, sister, and friend – was dying. Our mother, whom we had honored and embraced only days earlier with a surprise sixtieth birthday party, was being taken from us. Her death sent anger and pain, forcing those left behind to search for answers. To search for the strength to carry on. And carry on we did.
Two months later my husband, Troy, and I joined Dad in Kona, Hawaii for a dive vacation that had been planned with Mom and Dad. We were apprehensive, but Dad insisted Mom would have wanted us to go and that a vacation would do us good. We began our journey with Dad's favorite – a motorcycle tour of the island. We walked barefoot on the beach, boutique shopped for our loved ones back home and recuperated with afternoon siestas. A true vacation mood was settling in and we were just beginning to unwind when the sea stirred up a storm to reckon with. It was the first dive of the morning. The ocean was restless but inviting. Dad was excited to complete his final dive for certification. We embraced and flipped over the boat's edge into the world of peace and harmony beneath the water's surface. We were intently enjoying the ballet of marine life below, but a restless surge in the ocean summoned the two of us back to the world of air.
As my husband and I broke the surface, our world of peace was shattered into painful pieces. Two men were pounding on Dad's chest, attempting to revive him. I peered into Dad's baby blue eyes with that familiar feeling of weightlessness and hopelessness. Again, we were left behind to search for the answers. To search for the strength to carry on. And carry on we did.
A week later, we buried our Dad, sorted through what remained of Mom and Dad's personal belongings, and prepared their house of many memories for sale. Devastated, we returned home to the comfort of our warm furry companions, Randi and Ladi. We have not been blessed with children, but consider our two cocker spaniels the next best thing. Ten short days later Ladi, our nine-year-old female cocker spaniel, was lethargic, feverish, and coughing. I rushed her to the veterinary clinic and waited impatiently for the news. Time stood still as the doctor displayed the X-ray spotted with cancer. Every ounce of my being fought the inevitable. As I gazed into Ladi's beautiful, angelic eyes and whispered, "I love you," she took her final breath. It felt like I was taking my final breath. I was suffocating. I had to get out, get away. Gasping for air, staring blankly, I hurried toward the parking lot. My knees buckled and I collapsed to the unforgiving ground. My husband and guardian angel lifted my limp body and cradled me like a child. A pain-stricken wailing rose from the pit of my soul.
My beloved husband fought against his own grief in search of something to engage my spirit. He raced from pet store to pet store in search of a new furry companion to ease my pain. At long last the search ended when he handed me a beautiful baby girl. She was perfect, and the bond was instant. She was a golden blonde cocker with a white halo tuft over her brow. Her wet puppy tongue licked away my tears. I held her at a distance and gazed into the windows of her soul. Her name would be Angel, after the three precious angels who had passed.
I knew at that moment I couldn't take another step, but a voice inside of me said, "I will carry you." Each day I prayed that the Lord would lift the veil from my eyes and reveal the blessings through it all. Each time I engaged my spirit – by taking the focus off myself and placing it on the needs of others – I would be blessed. The more I engaged my spirit, the stronger I became. Until one day the Lord gently set me back down and said, "It is the character that is most strong that I give the greatest challenges to."
This year marked our first Christmas with our angels up in heaven. Christmas has always been a time of tremendous celebration for our family. But this year we were apprehensive as the holidays approached. We weren't looking forward to another reminder of our losses. As we engaged our spirits and turned our focus toward honoring our angels up in heaven, the Lord lifted the veil from our eyes and revealed the blessings. Joy filled our hearts as we trimmed the tree with mom's priceless decorations. Peace was restored as we hugged each other and exchanged our heartfelt gifts. Warmth and comfort embraced us as we shared this poem from our angels up in heaven:
We see the countless Christmas trees
around the world below,
With tiny lights, like heaven's stars,
reflecting on the snow.
The sight is so spectacular.
Please wipe away your tears,
for we are spending Christmas
with Jesus Christ this year!
We hear your beautiful songs of faith
what joy the voices bring,
but it is beyond description
to hear the angel's sing!
We know how much you miss us,
We see the pain inside your hearts
but we are not so far away,
We really aren't apart
We send you each a special gift
from our heavenly home above
We send you each a memory of our undying
and everlasting love
So, have a joyous Christmas
and wipe away your tears;
remember we're spending Christmas with each other
and Jesus Christ up here.
We lit candles, prayed for closure and stepped out in faith, celebrating our spirit and gaining the strength to carry on. And carry on, we do.
---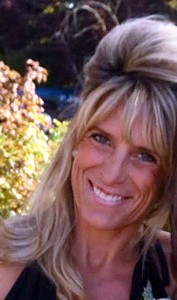 Sherri Dunningtonleft her home in Flathead Valley, Montana twenty-five years ago for San Diego, California in pursuit of an education and career in design and business management. She combined her creativity, business sense and entrepreneurial skills to develop her design/build venture in San Diego, specializing in interior design, lighting, automation and theatre. Seeking balance and staying grounded, she has dabbled in poetry and writing most of her life and has kept a journal for the past seventeen years with the eventual goal of writing a book. In 2008 she and her two cocker spaniels, Charlie and Angel returned to the custom home she designed and built on Flathead Lake, Montana to create space and begin her most important work…empowering women and honoring her ideal life. Sherri returned to school and received the training she needed to empower women to make lasting changes. As a certified coach, she provides individuals with tools to move past their personal roadblocks and accomplish goals that they have been avoiding or putting off. She listens, provides accountability and support, brainstorms to co-create a plan for results and asks powerful questions from an objective point of view. Through seminars and workshops clients are empowered to maximize their effectiveness in areas which include: communication, collaboration, transitioning, problem-solving, leadership, time management, goal setting and achievement, and facilitation. Her clients value the lasting effects of the new habits and behaviors that have transformed their businesses and their lives.
Sherri Dunnington – BIO